Our Safety Policies
For the safety and enjoyment of all our furry friends, we have a few requirements for dogs to come to daycare, or to be boarded.
Temperament Assessment
Before scheduling your pet's first day of daycare, your pet needs to come in for a short temperament assessment. This ensures that your dog will be comfortable and happy with our staff and our daycare "pack". Temperament assessments typically take 15-minutes to complete, and can be done the same day as your first day of daycare. Please call to schedule your dog's temperament assessment. First time boarders are required to complete at least one-day of daycare.
If your pet does not pass the temperament test, that does not mean your dog is mean or a bad dog. All it means is that they are not yet comfortable at our facility. We recommend taking time to socialize your dog with other dogs at a dog park and trying the temperament test again in one month.
Happy Hounds staff reserves the right to disallow any dog from future visits if a dog is found to be noncompliant with any of these requirements, or if a dog is a threat to the safety of other dogs.
Spaying & Neutering
All dogs at least four months old are welcome to join us for daycare or boarding; however, all male dogs one year or older must be neutered. Unaltered female dogs must not be in estrus (in heat) for daycare and boarding. This means that your dog must not go into estrus at anytime during their boarding stay.
Vaccinations
All dogs are required to have maintained up-to-date vaccinations for:
Rabies
Bordetella
Distemper
Bivalent Canine Influenza
You are welcome to maintain your pet's vaccinations records via your Happy Hounds/PetExec Account, or you can provide a hard copy of vaccination records at your next visit. You may also have your veterinarian email us vaccination records at info@louisvillehappyhounds.com.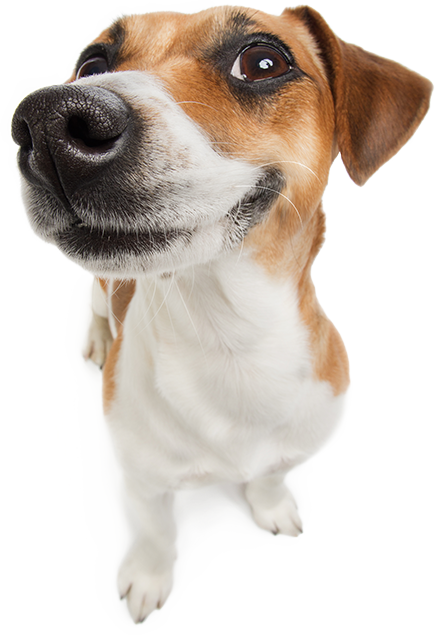 SMILE
& PLAY
Our Furry Friends Love Us
We love Happy Hounds! Woodford loves going and every morning tries to get in the van because he wants to go to Happy Hounds! They are all very friendly and just love on all the dogs! I highly recommend them for daycare and/or boarding you pup!

- Lindsey

My dogs, Franklin and Dottie, love it here. They perk up and run to the door as soon as I say doggie daycare. Then they run out of the car to the door when we get there. I never have to worry about them while I am at work. They are sad on Saturday and Sunday because they can't see their friends. I highly recommend Happy Hounds.

- Janet

...When we drop him off he is excited to play with all his friends and when we pick him up he always comes back happy, worn out, and clean! We don't even give it a second thought when we drop him off as we know he is safe, happy, and healthy. We couldn't be happier with this place!

- Laura