About Us
Happy Hounds is an independently owned, Louisville based doggie daycare and boarding facility. We believe that a tired hound is a happy hound, and that many behavioral problems can be solved simply by a dog getting plenty of exercise. That's why we provide a minimal crate environment for your furry friend to run, jump, and play with his puppy pals. Our team of dog-loving professionals will know your dog almost as well as you do, and will give your canine companion the love and affection he deserves.
Our facility is temperature controlled, with three spacious indoor play areas, as well as two all-turf outdoor play areas! Happy Hounders are separated based on size & temperament to ensure their maximum comfort and joy. We take an afternoon nap between 12:00 - 2:00 to keep your dog from getting overstimulated.
For hounds spending the night with us, we offer crate-free options upon request, because we understand not all pups feel comfy and at home in a crate. For dogs that feel safe and secure in a crate, we place plush flannel blankets into each crate, and play quiet, soothing music to lull your dog to sleep. This is especially helpful during thunderstorms. As an added bonus, your boarding includes a day of daycare.
We even offer grooming services! Whether your pet just needs a spa day, or maybe they are overdue for a haircut, Happy Hounds does it all.
We understand that in today's hectic work environment, you may not know your schedule day-to-day. While you always have the option to create a daycare reservation, we do not require one. So if something unexpected comes up, feel free to drop off your dog for the day, so long as they have passed their temperament test and up to date on vaccinations.
Here at Happy Hounds it is all about your pup! Call us today to schedule a temperament test and a free day of daycare.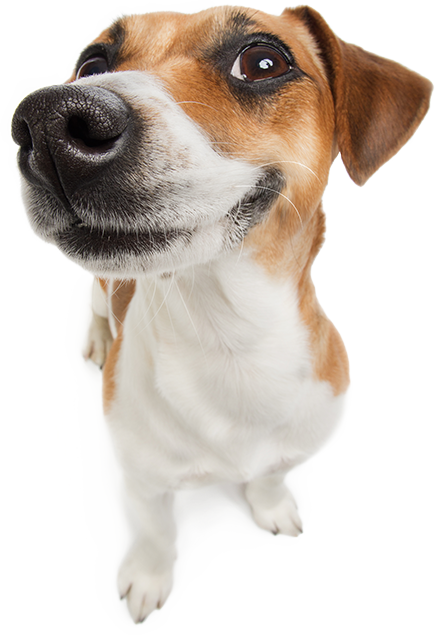 SMILE
& PLAY
Our Furry Friends Love Us
We love Happy Hounds! Woodford loves going and every morning tries to get in the van because he wants to go to Happy Hounds! They are all very friendly and just love on all the dogs! I highly recommend them for daycare and/or boarding you pup!

- Lindsey

My dogs, Franklin and Dottie, love it here. They perk up and run to the door as soon as I say doggie daycare. Then they run out of the car to the door when we get there. I never have to worry about them while I am at work. They are sad on Saturday and Sunday because they can't see their friends. I highly recommend Happy Hounds.

- Janet

...When we drop him off he is excited to play with all his friends and when we pick him up he always comes back happy, worn out, and clean! We don't even give it a second thought when we drop him off as we know he is safe, happy, and healthy. We couldn't be happier with this place!

- Laura